Trapani Wellness Center, spa and massages
A holiday that can be considered as such must include a good dose of relaxation ! For this reason we have created a special agreement for you with the Vultaggio farmhouse: Trapani Wellness Center with Spa .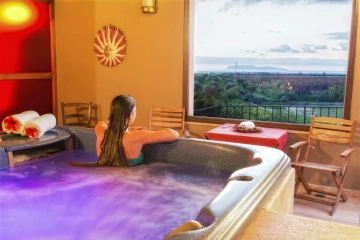 We offer the Wellness Center & Spa service in agreement with the Agriturismo Vultaggio , just 5 minutes from the Divino Hotel.
In this reality, nature is valued as a source of well-being, in fact the oils and sea salt come directly from the splendid Trapani salt pans and the scrub is made with freshly harvested extra virgin olive oil, salt and lemon .
You can let yourself be lulled by the beautiful paths and treatments with attention to detail, rediscovering the energy to return to everyday life with the right energy.
You can choose between different paths by choosing the one that best suits your tastes and needs, including water relaxation , wellness ritual, revitalizing ritual, hot-stone ritual , wellness with love, him & her, orange blossom, wellness & gourmet .
These paths range from hydromassage in a Jacuzzi tub, to massage , scrub , facial cleansing , to aperitif with a view in a spa for exclusive use, with some solutions that include all options and others with a single choice.
You can choose from many treatments such as scrubs , mud therapy, facial cleansing with lymph -facial or snail slime massage, the steam bath or different types of holistic massage according to your needs and preferences.
You can opt for a holistic maternity massage , crystal therapy massage, joint dance massage, ayurveda massage pinda - sweda , hot-stone therapy massage, physio - art - dèco massage, psychosomatic massage or relaxation massage .
Choose the best solution for you!